My last day in NYC was a Monday, and we had a flight scheduled from Newark Airport in the late afternoon. So what better way to start off your day than with some freshly baked donuts in the morning. So we headed off to The Donut Pub.
The Donut Pub
Location: 203 W. 14th Street – Chelsea
The Donut Pub has been bringing joy to NYC since 1964, and it is opened 24 hours a day, 7 days a week. Now, we thought a quick stop at the Donut Pub would be uneventful, but we were wrong. It was probably the most stressful ordering experience of my life. I heard rumors about the Original Soup Man being tough (Soup Nazi Seinfeld episode), but that turned out to be totally fine. No one warned me about the Donut Pub, though.
It wasn't super busy there, people streamed in and out to pick up donuts, but no one really sat inside. We stood to the side as we decided what donuts we should get, but then suddenly we were up. We knew what we wanted, but it turns out the lady taking our order had a very bad problem with listening. All we wanted were two french crullers, two honey glazed donuts, a tea, and a coffee. Oh and two more french crullers to go (for my mom and brother back home in Texas).
However, anytime I said one type of donut, she was like this one, that one, this one, without listening that I said the name, and she would say how many, 2, 3, 4, 5 and count at a fast rate without giving me a chance to say how many, and I was like 4 we want 4. Then she is like okay, bags it up, and says your total is blah blah (in a flash)! That isn't all I wanted. So I was like we also want two honey glazed donuts, and again it was the same process, she didn't listen, she bagged it, and it was time to pay. It was so crazy (and no one was even waiting behind us), but in the end we finally got what we wanted. It turns out the tea machine in there was broken so she poured me tea from a mug of tea….like it was her tea she was drinking. I don't know. I just had to accept that since I really wanted some hot tea.
I was stressed after, it was more chaotic than I can describe simply because this lady would talk over you and not listen but we laughed about it so much after because it's like okay this is the New York experience you hear about in the movies, she was like the Soup Nazi of donuts, it was pretty funny in the end. Apart from that the donuts were really good, but I'm not sure I'll go back. There must be another good donut place in NYC that is less stressful. 🙂 This place wasn't exactly cheap either.
After The Donut Pub we headed over to Chelsea Market to look around. It was a lot smaller than I imagined, but it was interesting anyways. We also walked on the High Line, which is a park built on an elevated section of a disused NYC Central Railroad spur called The West Side Line. Thanks, Wikipedia. :o) I'd love to go back there during the summer, it was really nice.
It was now time for lunch, and on my list was having a deli sandwich in NY. Finding a place to eat a deli sandwich at was really tricky. I have heard of the world famous Katz's Deli but seeing it on TV and online, those sandwiches are out of control, and it looks super crowded there. It turns out most deli sandwiches in NYC are insanely huge and expensive.
However, after a lot of research I did find one, conveniently located near our hotel, that had deli sandwiches I could handle, and it was known to be a really good place. So we walked over to Eisenberg's Sandwich Shop next.
Eisenberg's Sandwich Shop
Location: 174 5th Ave. – Flatiron District
This place has more than just sandwiches. Eisenberg's has been opened since 1929, and serves breakfast, soups, salads, burgers, fried fish, grilled chicken, turkey, various cakes and pies, milkshakes, and more.
I got the roast beef sandwich with cheese and mayo on white bread and my boyfriend got a pastrami sandwich on rye bread. My sandwich was pretty good, but I had a sample of the pastrami sandwich and that was even better. I had never had pastrami before. It would be a bit of a wild card to order something I've never tried before that could possibly be something I don't like, and then to leave hungry, but this is exactly what my boyfriend did. I knew I could always just try his sandwich. :o)
So next time I'm getting the pastrami sandwich, it was that amazing, and I only had a sample. 🙂 I have to say the sandwich bread was very good as well. You could tell it was freshly baked, it was light, and had a good flavor. I really enjoyed it.
This place looked pretty small on the outside, but like a lot of places in NYC, it turns out there is more room than you think once you get inside. There was a room in the back with more seats, and even though it was busy, we had no problem getting a seat on a Monday at lunch time in there. The service was also really good, and if you look on the walls you can see a lot of celebrities have dined in there as well. The sandwich was more than enough for me, but the size was way more normal than the other deli sandwich shops around.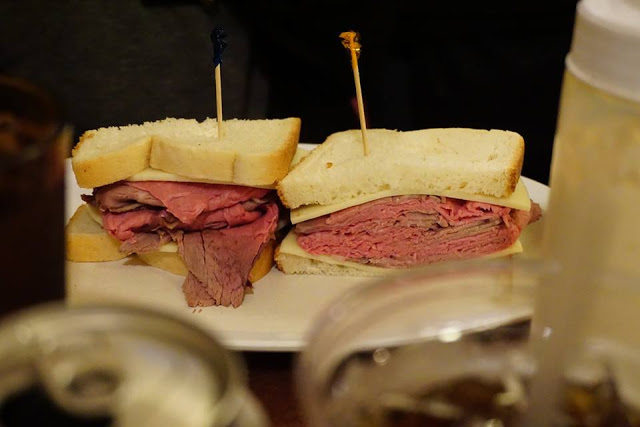 roast beef sandwich with cheese on white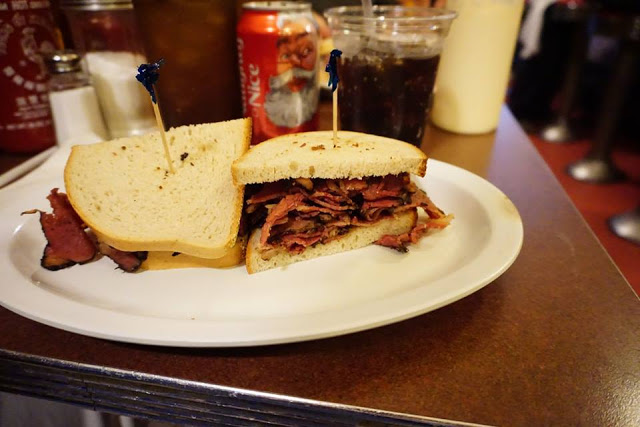 pastrami sandwich on rye
So that is it. This is what I ate in NYC. It was a short trip, I was very sick the entire time, but I managed to try everything I wanted to. There was no rush about it, we just had an idea ahead of time on what places we might want to try, and found them on a map so we knew where they were. We also stopped at places that we didn't know of ahead of time. This is how I like to travel. There is only a rough idea of a plan, but it's all up in the air in the end.
Our hotel was centrally located, which made a huge difference. We were able to walk around with no problems, and we kind of planned our schedule the night before, but just a verbal rough plan. You know tomorrow we could take the Staten Island Ferry and that might be a good day to try Lombardi's since it's on the way back towards our hotel. That kind of thing.
I hope you enjoyed my NYC culinary adventures. Hopefully I will get to make a second trip there and explore a little bit more. I loved NYC and I hope to go back.