Burgers are one of my favorite foods. In Texas we have a lot of great burger places, and when I came to Copenhagen, although a lot of restaurants/cafes are making burgers, most of them just didn't live up to my standards. One of the biggest problems was the burger bun, it is sometimes too dense, dry, or hard. Other times it is the meat, it just doesn't have the right flavor, or it's shaped too small for the bun, so your first few bites are just bread.
A good burger to me has a light, and soft but slightly toasted bun, a juicy and flavorful patty, and good cheese. The fries are important too. Freshly cut fries that are crispy can really make a difference. When I order a burger with fries I want to enjoy the whole meal and not just the fries or just the burger, so both being good is definitely a plus.
Now that I have lived in Copenhagen for several years I have found some really amazing burgers. Below is a list of places where you can get the best burgers in Copenhagen.
Tommi's Burger Joint
Location: Høkerboderne 21-23 – Kødbyen
Tommi's Burger Joint is new to Copenhagen. It is a burger chain from Iceland that has been around since 2004, although the owner has been making burgers since 1981 under other names. Even though I've only tried it once (a couple of weeks ago) the burger I ate there is probably the best burger I have ever had in Copenhagen. The burger was grilled inside the restaurant and had a smokey grilled flavor. It was juicy, with quality meat, a really nice bun, and crispy thin fries. They even used a blow torch to melt the cheese just right. The bacon looked amazing as well. So next time I will definitely try a bacon cheeseburger. At Tommi's, a burger with fries, and a drink is 94 dkk, which is a pretty good price for Copenhagen.
The atmosphere was also really special, and I loved the music. Since when do you go to a burger place and say you love the atmosphere and music? It was pretty cool in there. When I went to Tommi's it was a Friday night, and super busy. The place is small, so there aren't a lot of seats, and although there were only a few people in front of me in line it took nearly 30 minutes for my food to be ready. With no place to sit, and being hungry, it was not the best experience. There was a line out the door the entire time, but the workers there were working so hard. They had 25 burgers going on the grill at a time, and 20 orders backed up, but they just couldn't keep up. Maybe that's just a testament to how good the burgers are, right?
I suggest to try Tommi's on a week day/night or during the summer when the weather is nicer and you can sit outside if you have to. I definitely recommend Tommi's Burger Joint though. You can tell they use quality ingredients, and they have an assortment of special complimentary sauces you can add to your burgers or fries. If you are a vegetarian, I heard they have a really good veggie burger as well. I'll being going back again soon for sure, but probably not on a Friday.
Luna's Diner
Location: Sankt Annæ Gade 5 – Christianshavn
Vesterbrogade 42 – Vesterbro
Luna's diner has two locations in Copenhagen, one in Christianshavn and a newer location in Vesterbro. It is a restaurant, and a cheeseburger with fries costs 129 dkk. The burger tastes really good, and the fries as well. You get to pick a dip for your fries and I always pick honey mustard, which tastes just like the honey mustard back home. I love it. I suggest getting water to drink with your meal. You can get a pitcher of water to share with free refills for 29 dkk, and it comes with fresh mint and lemon. It actually tastes really good.
Apart from the Burgers, Luna's Diner also serves soups, sandwiches, wok dishes, salads, pasta dishes, breakfast dishes, wraps, and has brunch on the weekends. So I'm sure you can find something for everyone on the menu. It's not your typical restaurant in Copenhagen, as there are many dishes on the menu inspired by American food that you might not otherwise find at a restaurant in Copenhagen. It's also very cozy inside.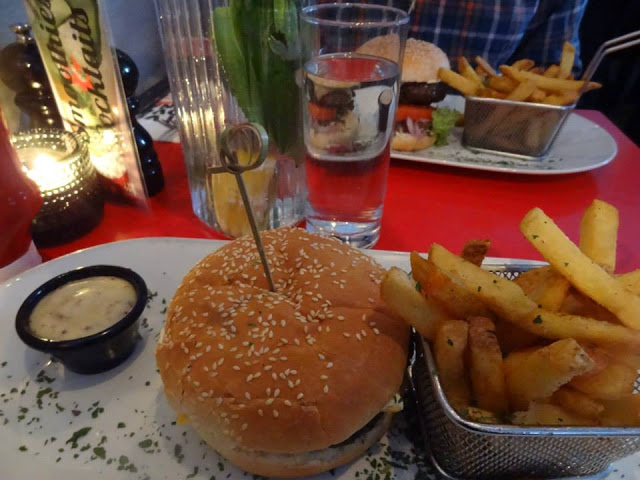 Cheeseburger plain with mayo only (my favorite way to eat a burger), honey mustard dip, and fries
Sporvejen
Location: Gråbrødretorv 17 – Downtown
Sporvejen is another one of my favorite burger places. This one is located in an old street car, so it's really neat inside. When I have friends or family visit from Texas, I always take them to Sporvejen. Not only are the burgers really good, but it's such a cool place. There are also tables and chairs outside. It is located downtown, a bit off the beaten path from Strøget in a really beautiful square with other restaurants nearby.
They have a lunch burger special for 65 dkk for a burger with bacon and cheese, and fries are 24 dkk extra. I have only tried the beef burgers here but they also have chicken burgers and omelettes. The burgers are always juicy, and the fries are pretty good as well. Definitely a place worth checking out.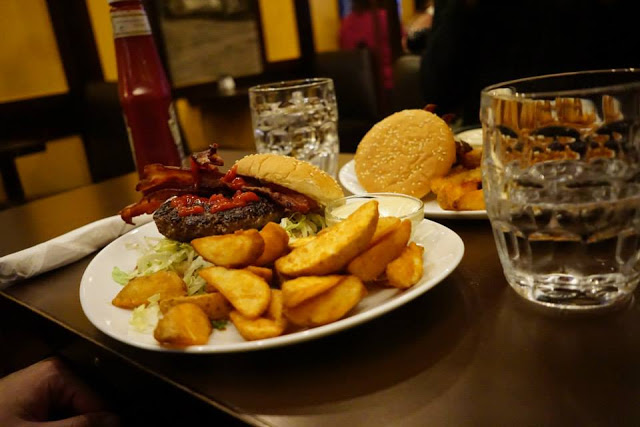 Bacon burger with ketchup, lettuce, tomato…and fries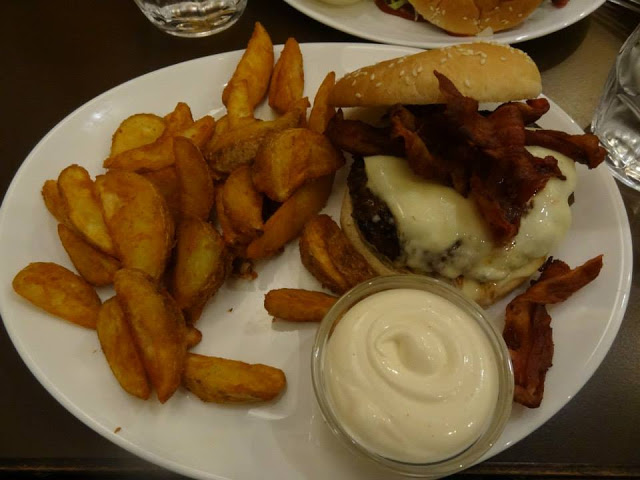 Bacon cheeseburger with mayo and fries
Halifax
Locations: Frederiksborggade 35 – Downtown
Larsbjørnstræde 9 – Downtown
Trianglen 1 – Østerbro
Vesterbrogade 72 – Vesterbro
Raberbanegade 3 – Amager
Falkoner Plads 1 – Frederiksberg
Skolegade 9 – Valby
As you can see, Halifax has 7 locations in and around Copenhagen, and the first location opened in 2007. This is one of my Danish friend's favorite places to eat so I have been to Halifax many times. What's neat about Halifax is all burgers come with a side, and a dip. You can choose from regular fries, sweet potato fries, vinegar fries, coleslaw, salad, mashed potatoes, or nachos as a side (although it looks like they might have taken the nachos off the menu). Anyways I can't imagine eating mashed potatoes on the side of my burger but I guess some people like that. :o) There are also many unique varieties of burgers, for example I once got the Zihuatanejo with aioli, cheddar, jalapenos, guacamole, salsa, onion, and lettuce, and it was delicious, but messy, I will admit. :o)
The place has a really cozy, rustic, but modern feel to it. The company/brand signage or art work is also really well done. If you order food as take away, everything is packed really nicely, in packaging stamped with their logo and art work. It's really a neat place, and the food is very good. The menu is limited to burgers, and sides, but sometimes it's a good thing to not have too much on a menu. It gives you the ability to focus on these items even more. Halifax also has a lunch special during weekdays, so look out for that.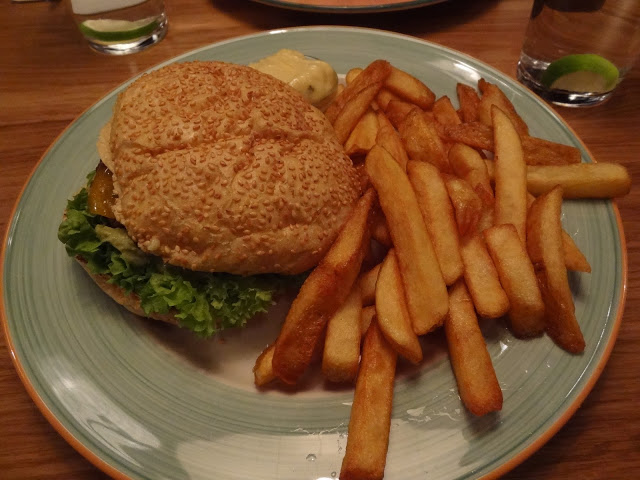 Burger with avocado, salsa, cheddar cheese, and lettuce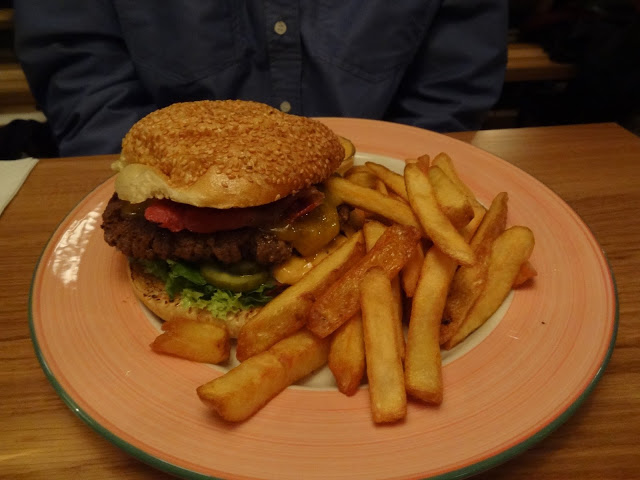 Standard burger without cheese
Condesa
Location: Ved Stranden 18 – Downtown
This next place is located downtown across from Christiansborg Slot, and it is only open for dinner. It's actually a mexican restaurant/bar that serves tacos, ceviche, oysters, chicken wings, cocktails, and beer, and no burgers…
Yep, that's right, burgers are not on the menu! I was reluctant to include this place on my list of the best burgers in Copenhagen, but I have to mention it. Last summer for one day, Condesa grilled burgers outside, and they were amazing. After we had those burgers we thought, great, now we know of another place to get a good burger, but when we checked the menu online, we noticed that burgers are not on the menu there. They do, however, have a spicy fried chicken burger on the menu only on Wednesdays and Thursdays.
Condesa, if you are listening, please consider also adding a beef burger to your menu. I really loved it! The bun was homemade, and just how I like it, the meat was of high quality, really flavorful, and juicy. I hope to see more of your burgers in the future.
If the burger was that good, I'm sure the rest of their food must be amazing as well. So perhaps, those of you reading this, should just check out this restaurant anyways, and look out for a future Condessa pop-up burger summer grill party. 🙂 Hopefully it happens again.
So that is it. I will add more pictures soon, and if you have a favorite place to get burgers in Copenhagen, please let me know. :o)