A Galette is a savoury buckwheat flour pancake that originates from the region of Brittany in France. It can be topped with egg, ham, cheese, spinach, salad, onions tomatoes, salmon, mushrooms, bacon…or whatever other toppings you might like. The most common variety has ham, emmentaler cheese, and egg.
I first tried Galettes in Copenhagen, Denmark, and loved them instantly. The buckwheat flour has a really good flavor, it gets toasted in a pan with butter, and together with the toppings it is really delicious. It is perfect to eat for lunch or brunch since it is both filling, but also light.
I decided to try to make Galettes myself, and it's actually pretty easy. I don't have a special Galette pan or tool, but they still came out pretty good. The trick is to get the pan very hot before you pour in some of the batter, and make sure the pan is buttered, and the batter coats the pan. Don't worry if the first pancake you make doesn't come out right, it can be a bit tricky in the beginning just like it is making any kind of pancake.
If you want to see a video on how to make Galettes, I made a video here:
I got the recipe from a french blog. It is really simple, and makes 10 Galettes. If you want to try to make them yourself I have translated the recipe below.



French Galettes (Buckwheat Pancakes)
Ingredients
300 grams buckwheat flour
8 grams crushed sea salt
750 ml filtered water
Instructions
Mix the flour and crushed sea salt in a large bowl, slowly add in the water, and whisk until incorporated.
Let stand covered for 2 hours at room temperature.
Heat pan on a high setting.
Coat pan with butter once hot.
Add about half a cup (more or less) of the pancake batter to the hot pan, and move around to coat.
Bake the Galette until crispy, about 3 - 5 minutes, then gently flip it over.
Add your toppings in the middle of the Galette.
Fold all four sides slightly. The sides you folded should have no toppings. This is just to ensure every bite has toppings in it.
Serve on a plate.
Notes
I did not use filtered water, but that could be why mine didn't come out as crispy in spots, but they still tasted delicious. I also didn't use any special tools.
http://www.dreamingoffood.dk/index.php/2016/06/13/making-homemade-french-galettes/
You can also serve this with a salad on the side. I bought some mixed salad leaves, and added Good Seasonings Garlic & Herb salad dressing on top. 🙂
Hope you enjoy this recipe!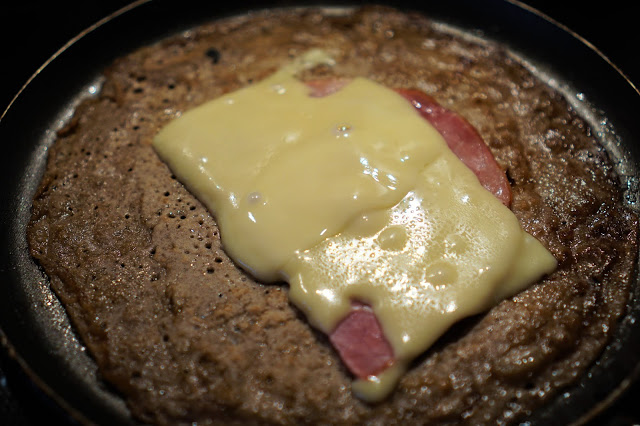 Galette with ham and emmentaler cheese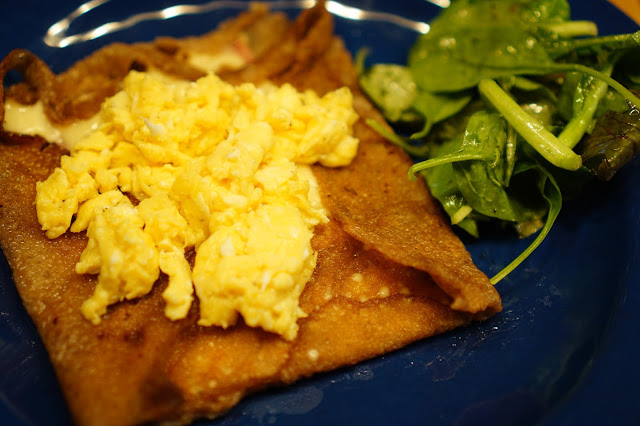 Galette with ham, emmentaler cheese, scrambled egg, and a side salad.