One of the best things about living abroad as a foreigner is that you get to meet people from all over the world. You learn about different cultures, languages, and food through these new people you meet that you might not otherwise know. One of my friends in Denmark is from Brazil, and one day she made Pão de Queijo for me. It is a Brazilian cheese bread that is typically made with cheese, tapioca flour, egg, milk, and some kind of oil. It is a really popular snack in Brazil and can even be found at supermarkets, and bakeries. It can be eaten for breakfast as well as just as a snack. It has a very unusual texture. The outside is crunchy, but the inside is soft, and has this cheesey firm gooeyness to it that is hard to describe, but really tasty. They are like these little light puffs of cheese. 🙂
There are several different methods and variations of ingredients to making Pão de Queijo, as I found out by searching for a recipe online. Some people blended all of the ingredients together in a blender, poured the very liquidy batter into mini muffin tins, and baked them. Some people used mozzarella cheese or cheddar, some cooked the ingredients before baking and some didn't, but I wanted to make them like my friend did. She used parmesan cheese, and formed the dough into balls before baking them. Rather than ask her for the recipe (since I think she just googled it) I just searched for one online as well. I found a recipe similar to hers here. 
I decided to make half of the recipe, and I substituted salted butter for oil. I also reduced the salt. So this is the recipe I came up with in the end and the Pão de Queijo came out perfectly. Try it out if you want, and remember that they are best eaten warm. :o)
Brazilian Cheese Bread (Pão de Queijo)
Ingredients
1/2 cup whole milk
57 grams butter
1/4 tsp salt
1 - 1 1/4 cups tapioca flour/starch
1 egg
3/4 cups parmesan cheese
Instructions
In a small pot, combine milk, salt, and butter. Then, bring it to a gentle boil.
Remove pot from heat.
Stir in the tapioca flour, and mix until combined.
Cool for about 15 minutes.
Then, add the egg to the flour mixture, and mix until combined. You might have to use your hands
Next, stir in the cheese, and add more flour, if needed. Again, you might have to use your hands to make sure it is well mixed.
Then shape the dough into balls, and place on a baking sheet lined with baking paper.
Bake for 25 - 30 minutes at 350F/176C.
Serve warm.
Notes
When shaping the dough into balls, you might want to lightly oil your hands to prevent sticking.
Also, I thought the dough was too wet so I added more tapioca flour so it was easier to handle bringing the total amount of flour used to around 1 1/4 cups. I think if you add too much flour (so the dough is very dry) then the dough will be over worked and end up too hard once baked. So the extra amount of flour I added made the dough still wet but easier to handle and shape into balls.
http://www.dreamingoffood.dk/index.php/2016/10/01/brazilian-cheese-bread-pao-de-queijo/
If you live in Copenhagen, Denmark you can find tapioca starch/flour at Kabul Market outside Central Station. I could not find it when I was there so I had to ask and it's no wonder I couldn't since it's mostly written in Thai? 🙂 I don't know. It looks like this: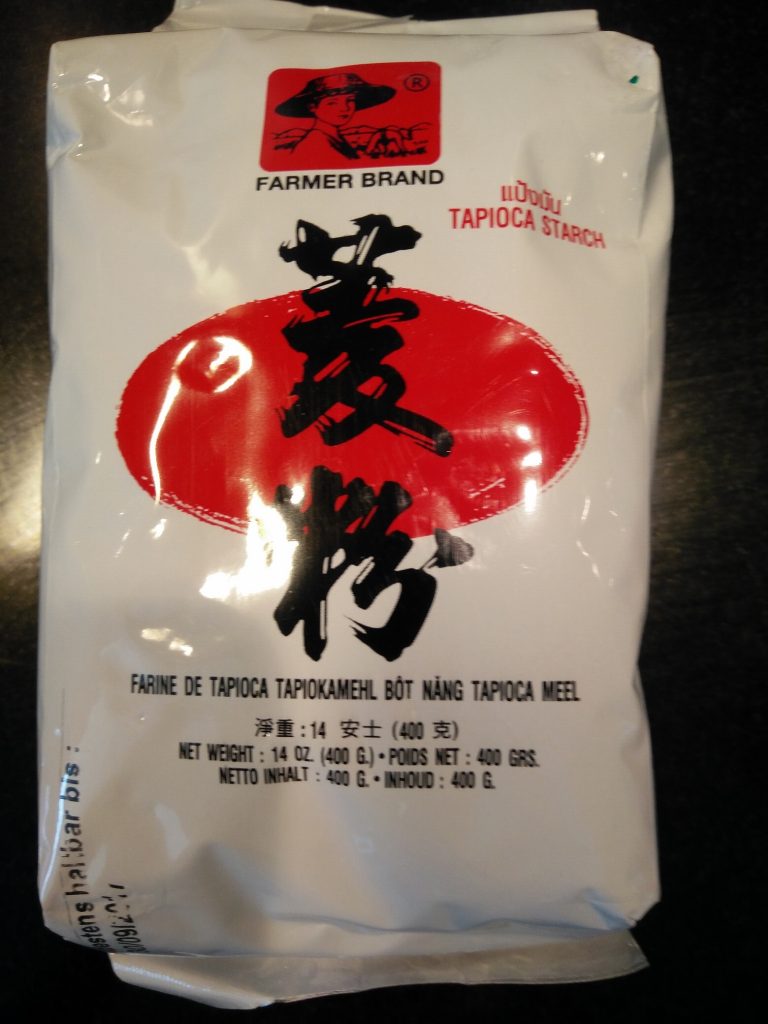 Hope you like them. Pretty easy to make. This was my first time making them and I imagine the next time will be easier. 🙂 I also made a video which I will upload soonish.