A little over a year ago I posted a recipe on how to make potato & egg breakfast tacos. To my surprise, this is the most watched video on my YouTube channel. So I am going to try to share more recipes on how to make other varieties of breakfast tacos, and I hope you will enjoy this! 🙂 There are three basic steps, make tortillas, make the filling, and put the filling in the taco. 🙂 Oh yeah, and eat the taco hehe
So sausage & egg tacos are no different. You can start by making tortillas, or cooking the sausage, whichever you prefer. You can even warm up the tortillas as the last step. I wrote a recipe (below) on how I make these tacos and made a video to go along with it. I hope you like this recipe, and I do encourage you to either buy freshly made tortillas and salsa, or make homemade tortillas and salsa, it makes a huge difference in flavor.
The recipe makes 3 tacos, but just remember you need 1 egg per taco, and 1 sausage link per 3 tacos, so if you want to make more tacos then just make more eggs and sausages according to how many tacos you want to make. 🙂 I hope that makes sense!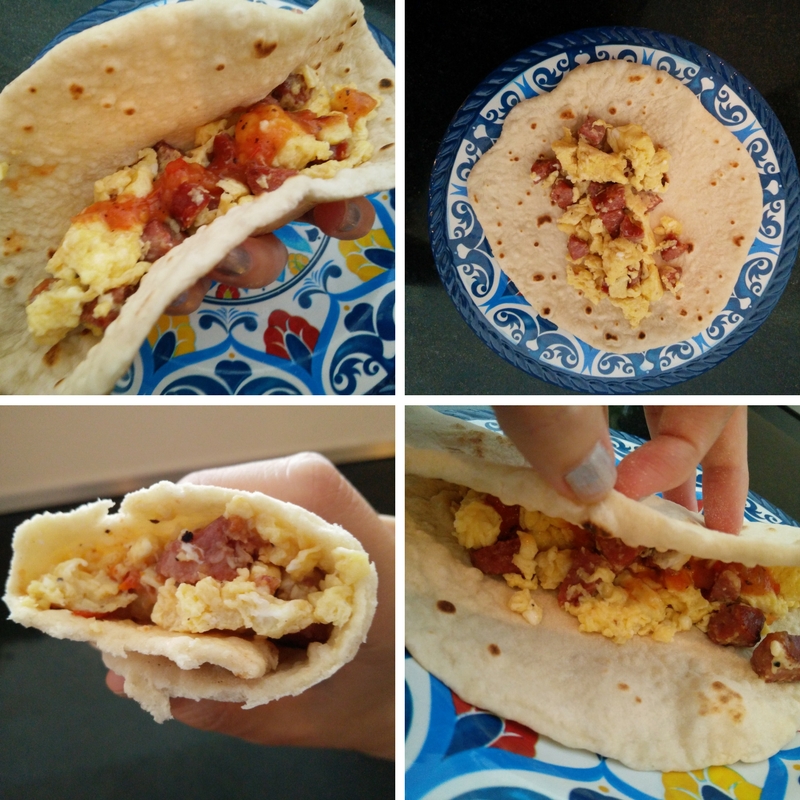 Sausage & Egg Breakfast Tacos
Ingredients
1

smoked beef sausage

e.g. kiolbassa, opa's, kålpølser

3

eggs

3

flour tortillas

butter

salt

pepper

salsa

optional
Instructions
Sausage
Cut sausage into medium/small chunks.

2. Cook sausage in a preheated pan set at a medium heat setting, you can add a bit of oil to help it toast.

3. Remove cooked sausage from pan and place in a bowl/plate lined with a paper towel to drain the fat.
Tortillas
Place tortilla in a preheated pan set at a medium/high heat setting.

2. Flip over when it bubbles a bit, and cook the other side.

3. Set cooked tortillas in a tortilla warmer or covered with a kitchen towel to keep warm.
Breakfast Tacos
Crack eggs in a bowl, add salt and pepper, and whisk/stir together.

2. In a preheated pan set at a medium heat setting, add a knob of butter.

3. Once the butter has melted, add in the eggs to cook.

4. When the eggs start to firm around the edges, stir together to scramble.

5. Add in the cooked sausage when the eggs are almost cooked but still a bit wet.

6. Remove from heat while stirring the sausage in the eggs to prevent the eggs from over cooking and drying out.

7. Then, set a tortilla on a plate, and place some sausage/eggs in the center.

8. Add Salsa

9. Fold the taco and wrap in foil to keep warm, or just eat as is.

10. Continue these steps until all the tacos have been made.